I am about done with winter…  How about you?  Are you done or are you wishing for some more good snow days?  I am ready for nice weather.  I am itching!!!  Anyhow, let's dream a little with all the spring goodies on Teaching Heart!  Click the title to view the warmth!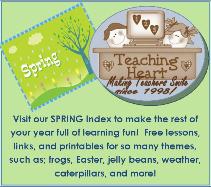 Pages with free printables, lessons, and more for some of your favorite SPRING topics!
For more Spring Topics – view our index.  Click Here! 
Some of our MUST see Packets for Spring and Beyond!
Calendar Refresher Activity Sheets
Wow Weather!Earth Day Packet (k-3)
Old Lady Puppet Pattern and Resources!
St. Patrick Packet (k-3)
End of the YearCaterpillar / Bug
Here's to wishing that Ground Hog knew what he was talking about!
Google+