I will be having fun all month with Gingerbread and a few fabulous Preschool students!  So you may be seeing many Gingerbread related posts in November…
Here are some more highlights from the fun we had last week with Gingerbread Friends!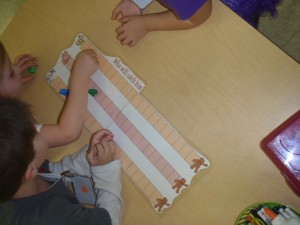 Above we are playing the catch the Gingerbread Friend Dice game found here.  – Which one of the characters can get to the Gingerbread first?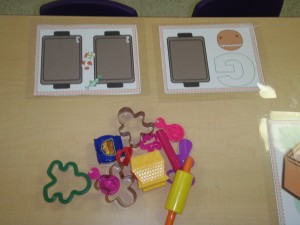 Of course we had fun with Gingerbread Play-dough.  You can see the recipe here.  You can also download a free Play-dough Mat here.  For even more Gingerbread Themed Mats click here.  That Gingerbread Play-Dough sure makes the room smell yummy!!!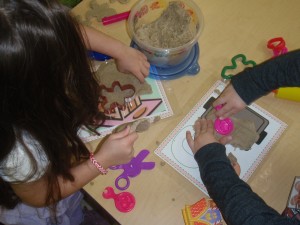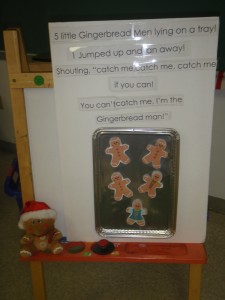 We are having a blast with the Five Little Gingerbread Poem.  We made our own scratch and sniff cookie sheets with our own little Gingerbread Friends in the tray.  Details about that activity can be found here.  The Pre-K kids took their cookie sheets and paper cookies they made home and used them to practice the poem at home.  Here is a pan below.  Gotta love K-mart – They had a sale – together for .50 – Normally a dollar for 2.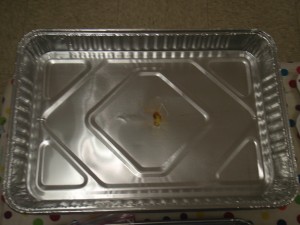 Lots of Fun with Gingerbread Toys!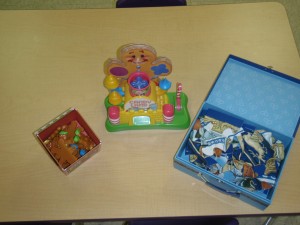 We played with some fun Gingerbread Toys too!   The game in the middle is the Candy Land Game I happened to have and now see it is not made anymore (you can try and find it at a garage sale).  It works great with a Gingerbread theme because the playing cards are shaped like Gingerbread Men.  The kids love matching the shapes that come out of the game.  I played this once with the kids in small groups and then set it out and they enjoyed playing it at free time.  Then I have a Gingerbread Baby Themed Large Puzzle and Gingerbread Baby Snap Pieces.  You can see more about those below on Amazon.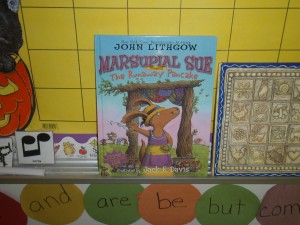 I LOVE THIS BOOK – The Runaway Pancake to use to compare and contrast it to the Gingerbread Baby.  It comes with the CD.  John Lithgow does an excellent job of reading the story.  The kids love it and really get into comparing how the story is like the Gingerbread Baby and how it is different from the story.  Hoping to do a compare and contrast chart with the group in the future.

For more free and fun ideas and printables for Gingerbread, click here!  
Google+