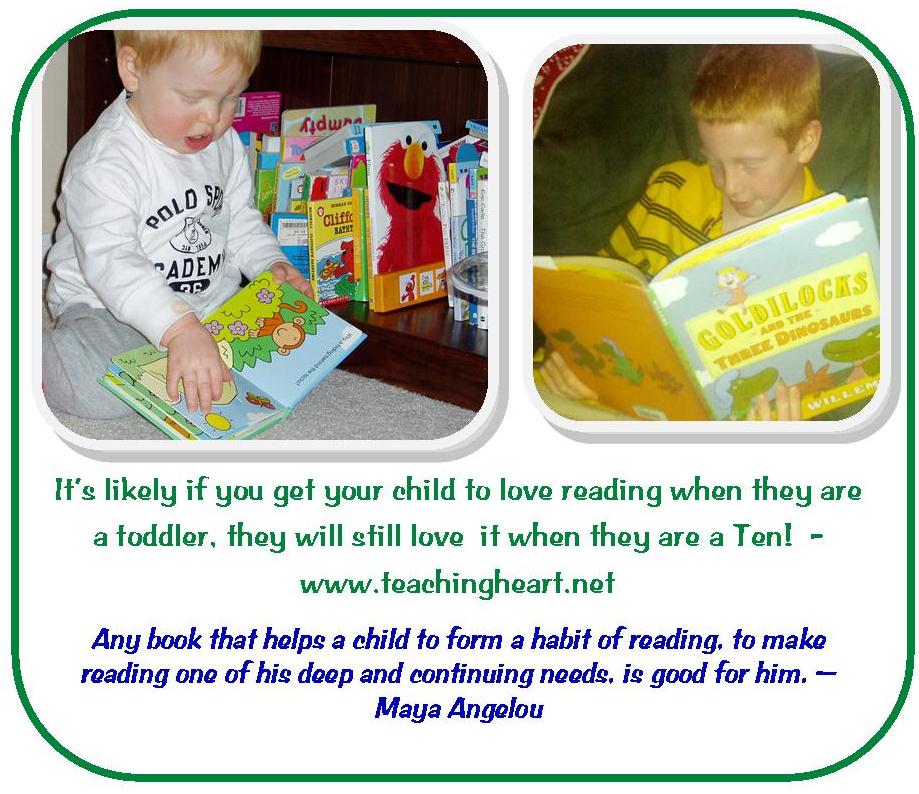 My daughter is a big Mo Willems fan!  I too have to say I am loving how this author writes books that my first grader loves to read on her own.  Below you can see her latest library selection on top of the book I want to tell you about today.   It happens to be a Mo Williems book as well!!!   I Broke My Trunk!!!  It's so cute – click her to Learn more about I Broke My Trunk.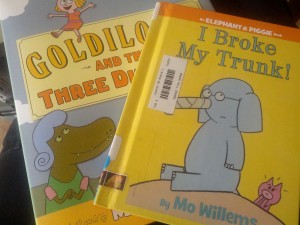 Recently, Mo Willems released a new book – Goldilocks and the Three Dinoasaurs.  It does not involve his usual cast of characters (pig, elephant, or pigeon).  Instead a little toe-head and three dinosaurs are the stars.  However, if you look closely at the illustrations you may see Pigeon on at least three pages (go ahead, play I Spy)…  Goldilocks and the Three Dinosaurs text are also much different than Mo Willems' usual text.  This story does not include talking bubbles.  So you are in for a little change if you were expecting something similar to some of his other stories…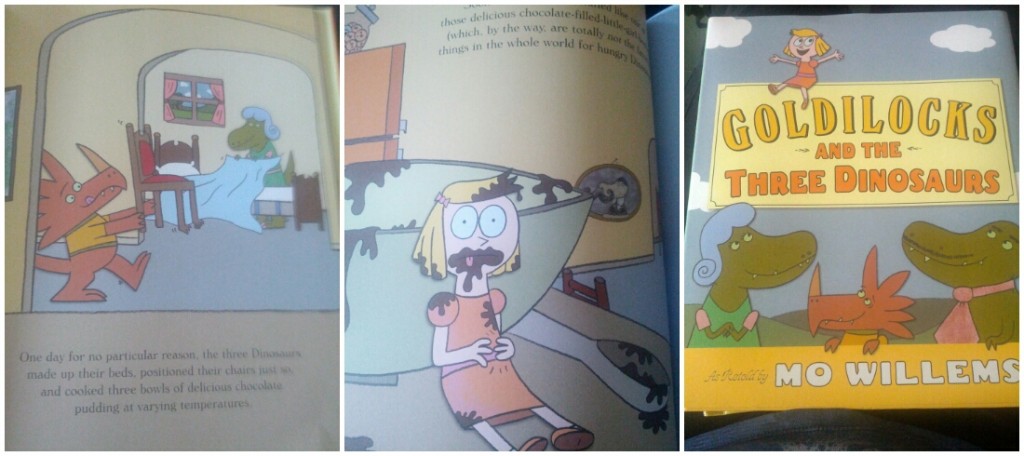 However, my daughter (age 6), son (age 9), and myself (age 37?) loved the book!  It still screams Mo, with the humor and illustrations.   It's a spoof on the Goldilocks and the Three Bears Tale.  Mo has an entirely different version involving three tricky (so they think) Dinosaurs.   The Dinosaurs in the story (Momma, Papa, and "some other dinosaur visiting from Norway") must have read the original Goldilocks story and were hoping to set up their home in hopes of enjoying a little blonde girl for a "succulent" treat.  Do they succeed or is Goldilocks smart enough to figure out their plan?  You will enjoy reading this story to find out! 
It's a perfect read aloud.  Some of the humor will not be gotten by the Prek-1st crowd, but if they don't get it, you will get it and enjoy it!  The kiddos love the story and the illustrations.  It would be fun to compare and contrast the original story to Mo's story.  My 9 year old got the humor and enjoyed the story very much.  This is definitely on a must have for read aloud time.  Mo Willem's is such an awesome Children's author and is quickly becoming a favorite in my home and in many classrooms.
Don't Let the Pigeon Drive the Bus Lesson and craft.
Free Comic Strip Printable to Match Elephant and Piggie Books.
Check out the cute puppets from ~ Adventures in Tutoring & Special Education ~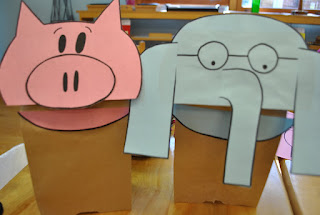 Mommy and Me Book Club shares this cute Pigeon Handprint craftt.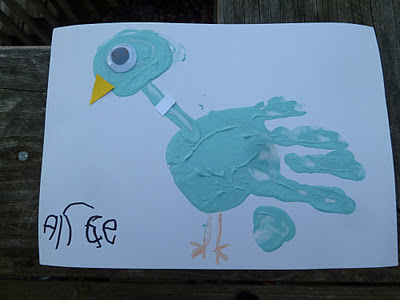 One of the Teaching Heart Facebook Fans just told me about the DVD's Below…  I haven't seen them yet but I am a huge fan of the Scholastic Storybook DVD's in general.  I am sure these are fun to watch AFTER you have read the books a few times. 
The Pigeon Finds a Hot Dog
Google+