IF YOU ARE A BLOGGER YOU COULD WIN A $25 ITUNES CARD!!!  If you are not, check out what next week will hold. Keep reading…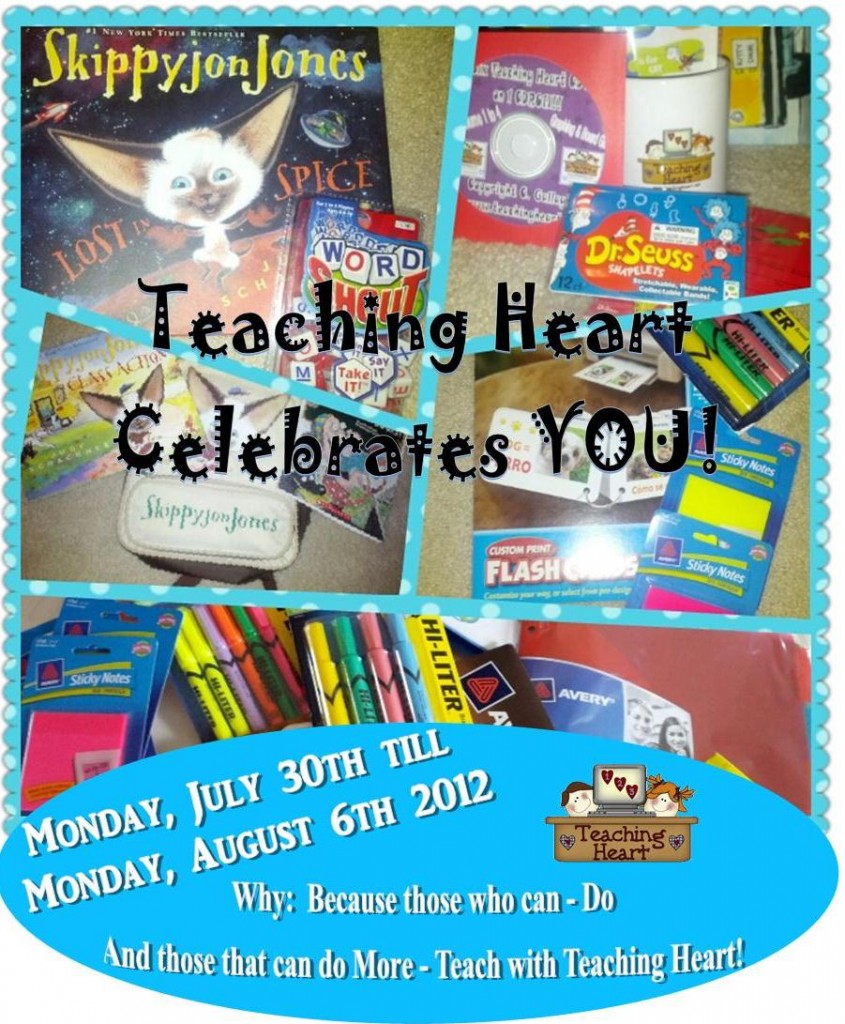 August is a coming and the rush for teachers to get it all done and ready for the best year ever is on!!!  Teaching Heart celebrates teachers all year long… but we also like to award some a few times a year!  We are gearing up for a few days of prizes!  Starting Monday, July 30th – through Monday, August 6th – make sure you check the blog and enter for a chance to win a goodie!  The picture above gives you a sneak peek at what you could win…  I love giving away treats to my favorite Teaching Heart Teachers!
See the picture above…  If you have a blog, post the picture on your blog with a link back  to this post and a link to our Facebook Page https://www.facebook.com/teachingheart .  After you do that come back here and put the link to the post on your blog in the comments of this post before Monday, July 30th.  On Tuesday the 31st, I will randomly select one person who blogged to win a $25  ITUNES card!!!  Should be a small group of entries – making an easier chance of winning!  I love bloggers! 
Those without blogs… come back on Monday…  I will have plenty chances for you to try and win something lovely!
Ok, now go ahead and surf on over to our back to school page for some fun ideas, printables and more!
Get ready to celebrate…
Like us on Facebook!
Get us in your email…
o, and check out the FLASH SALE!!! 
Visit our store and Save – click here! 
Sale Day 4—On Fri. July 27th save 25% on total with coupon code flash25 at checkout.
Sale Day 5—On Sat. July 28th save 20% on total with coupon code flash20 at checkout.
(LAST CHANCE) Sale Day 6—On Sun July 29th save 15% on total with coupon code flash15 at checkout.
Google+