Teaching Heart is celebrating back to school!  What a better way to get ready for that first day than with a little celebration and a giveaway or two.  All this week we will list one giveaway per day.  So check back daily to see what is new and to enter for a chance to win it!!!  Let's start off big with a $150 Avery Product giveaway!!!  The winner will receive the products below in this picture in quantities that make the giveaway worth $150.00!  WOOT!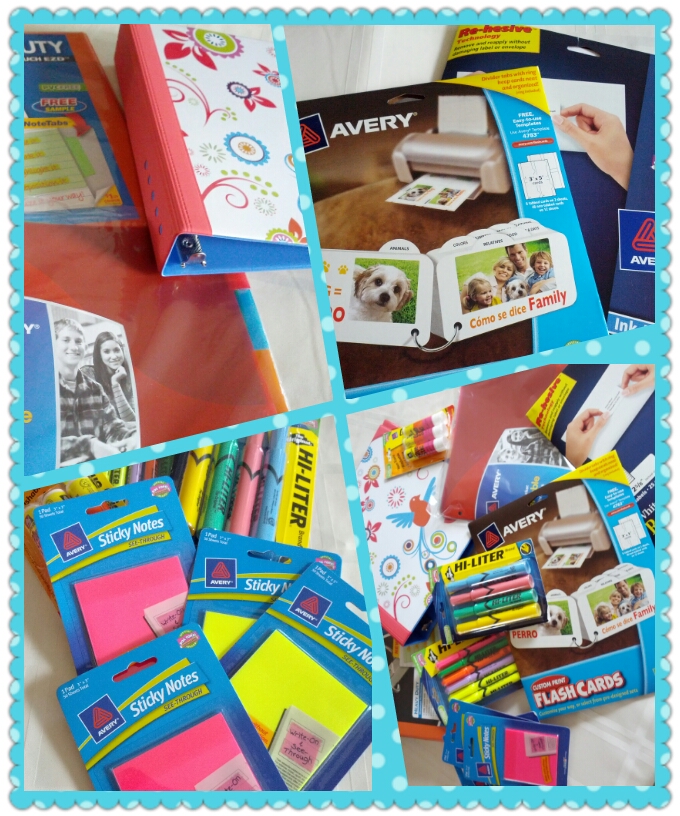 If you follow this blog regularly you know that I use Avery products a lot.  One of my favorite products is the Avery T-shirt Transfers.  You can see how I made a Japan shirt for my son here using the Avery Iron On Paper.  O, and here I show you the Pinkalicious shirt I made my daughter.

Besides the Avery T-shirt Transfer paper, some other posts I have done in the past where I used Avery products include…
I love the table runner I made here.  Yes, I used Avery T-Shirt Transfer paper!
Now you get it, I am a big fan of Avery – have been for years!  I was excited to get some new products I was not aware of…
Avery Custom Print Flash Cards, 2.5 x 4 Inches, for Inkjet and Laser Printers
Avery Custom Print Flash Cards offer you a better an easy and quick way to make flashcards. Whether it's math, sight words, definitions, translations or history facts, it's easy to create customized cards with their free templates and pre-designs at http://www.avery.com/avery/en_us/Products/Avery-Flash-Cards.htm . A quick sign up and you can use Avery templates along with content created by Teacher Created Resources, a leading company in the educational materials industry, are provided.  Add pictures and content tailored to specific learning styles and there's no need for scissors, as the cards separate quickly and cleanly. Simply design and print!
When you get to the Avery design page as stated on the back of the package you can select your grade level and view a list of ready to print flash cards.  Here is what came up for choices when I clicked first grade.

The flash cards are wonderful!!!  A teachers dream, just print and tear apart.  NO CUTTING!!!  WOOT!!!
Another product Avery gave me was Avery Sticky Notes, See-through!

What teacher doesn't love a sticky note?!  These are even better, you can see what's under your note!
Write notes without covering information underneath
Highlight and reference portions of a document without writing directly on it – You could edit students work with these buggers.
Easy to apply and remove
Great for keeping textbooks/Teacher books looking new
One of the best parts about Avery products is that they all have BOX TOPS on them!  So if your school collects them make sure you cut them off the package and get some money back for your school.  Make sure you head over to:
http://givebacktoschools.avery.com/schools/index  – Avery Give Back to Schools™ promotion.  Avery says, "This year, we're excited to be giving away a total of 500,000 Box Tops for Education® coupons, $50,000 worth of durable Avery school supplies and $5,000 in gift cards. All you have to do is vote for your favorite school!" — Vote for your school or your child's school!
Like Avery On Facebook!!! and tell them Teaching Heart sent you!
Avery is going to send you the items you see in the pictures in larger quantities.  The value is $150.00 in Avery Products.  You will be set for a great year!
If you do not follow the rules in this post your entry will be void without notice. 
1 Entry per person.  Last Day to Enter is August 11, 2012.
To enter this giveaway you must be a Facebook Fan of Teaching Heart – click here and make sure you click like!
You must subscribe to Teaching Heart VIA email – Click here to subscribe.
This is not mandatory… but if you do this, your will get an extra entry in the pot.  Follow Teaching Heart on Pinterest – Click here and click follow – If you are not on Pinterest…  No worries, you still are in!  🙂
Make sure you confirm your subcription to make your entry valid.
Once you do the above, please fill out the form.
Last Day to Enter is August 11, 2012
Disclosure: Avery offered Teaching Heart products & certificates in exchange for a review.  But the opinions posted in this post are true of the experiences found while using Avey Products. Colleen Gallagher of Teaching Heart!
visit Teaching Heart's Back to School PAge for free ideas, lessons, and links you will love!!!
Google+