You came back to party!  Let's start this party off with the entry form for the GRAND PRIZE!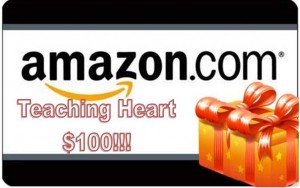 $100.00 in Amazon Gift Cards to one very lucky winner.
Your entry will be void if you do not follow these rules:
-NO MORE THAN 1 entry per person
-Last entry day is Sunday, May 27th
-You must like Teaching Heart Facebook Page – click here
-Subscribe to Teaching Heart via Email – click here (Be sure to confirm this subscription via your email.)
-See that network blog box over there to your right.  Click follow and follow this blog.
-After you do all of the above, please fill out entry form below completely
A special thanks to our five sponsors that made this party happen.  Be sure to click and follow their blog!
Mrs. Miner's Kindergarten Monkey Buisness – Krissy's blog, A Teacher's Treasure – Mor's blog,  Miss Kindergarten – Hadar's blog,  Empowering Little Learners – Jennifer's site, and  Clever Classroom – Emma's site
Here's the entry form…

Google+