Are you noticing the theme???  Pre-Primer Sight Word Activities here and here…  Below is another free sight word activity…  I am getting ready to reveal a new Pre-Primer Sight Word Packet (then later packets for Primer, 1st, and 2nd) and just showing you some of the goodies through free samples.  So here is a cover-up activity free to print with 10 of the Dolch Pre-Primer Sight words.  Give your class some bingo chips or cereal to use as markers.  Call out a word and have them cove that word up.  You can quickly check that everyone has covered the correct word.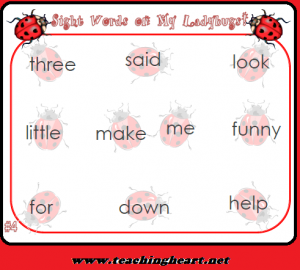 Click to download the Ladybug Cover-up!
If you enjoy that and want more ready to print, check out our Sight Word Packet Here…
Have fun reviewing those sight words!
Google+