I wonder if what I am about to say is safe to say…  Here goes, "This was my kind of winter!  Hardly any snow.  No school delays or closings. Can every winter be like this one in the wonderful city of Pittsburgh?"  Now watch, we will get bombed with snow in a few days.  LOL!
Seriously, Spring weather hit this weekend.  So I am thinking Spring.  Rain, Rainbow, and Umbrellas is the theme of these printables. 
The first two printables are dice games.
The first one below is a printable dice game that asks the students to take turns rolling a dice and covering up the sum of the three dice.  The second game is a roll and draw a rainbow game.  Students take turns rolling a dice and coloring in a part of the rainbow.  First person to color in all the colors of their rainbow wins.  This actvity is also great for practice reading color words.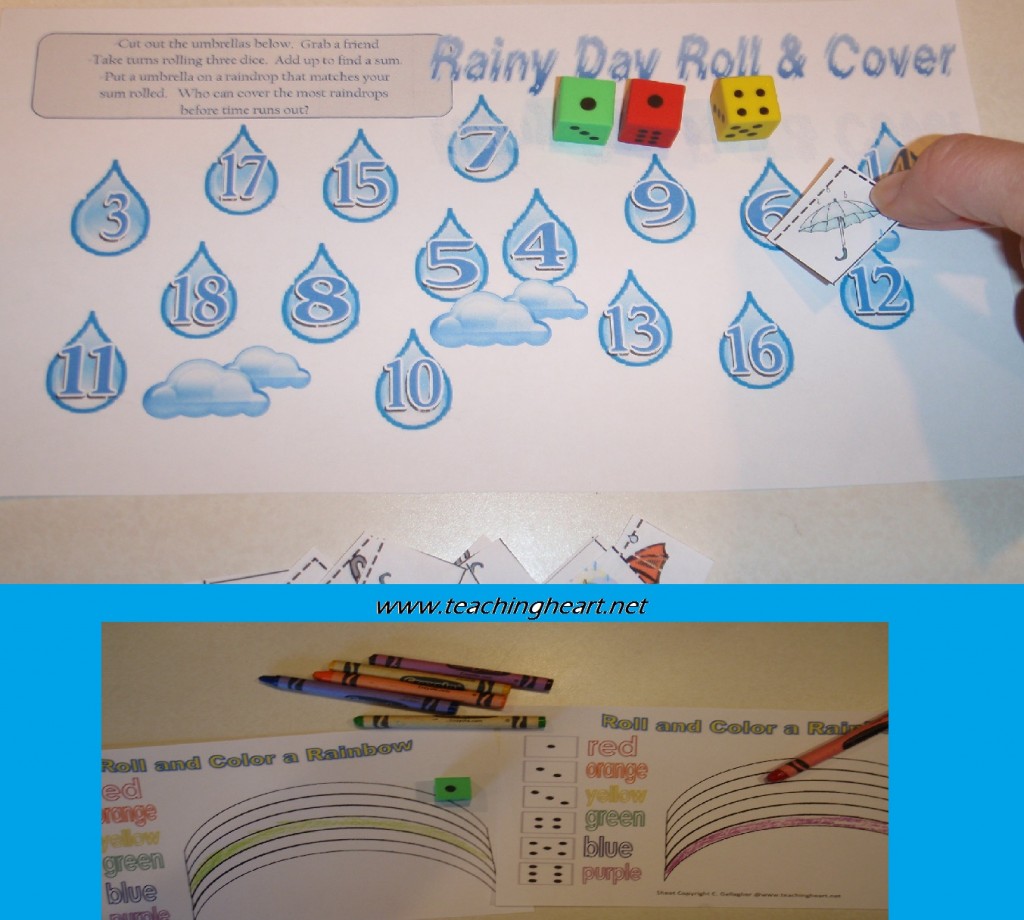 Click  rainrollandcoverteachingheart to download the three dice game.
Click rainbowrollteachingheart to download the roll a rainbow game.
With all these rain and rainbows, you need some umbrellas….  I have a guest post over at the Organized Classroom Blog that contains a contraction center that is perfect for spring practice of contractions.  Click here to visit the post, download the free file, and say hi to me over there!!! 
Be sure to stop by the Teaching Heart Instant Download store and purchase one of our Spring Resources.  There are lots to choose from.  Click here!
I just finished updating my Weather Unit… Last time it was updated was in 2003… Time sure does fly. Hop on over by clicking here.
YOU WILL ALSO want to get the WOW Weather Packet… It is storming over with awesome printables. Click here to check that out!
Need some Spring Reads?  Click here!
For more Free Spring resources, click here! 
I hope you have a great day!!! 
Google+