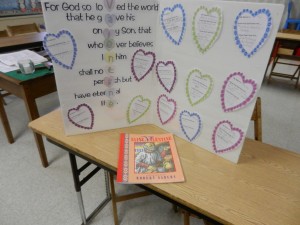 I was inspirered by Catholic Icing's post here to make a lesson based on John 3:16 for a Valentine's Day Lesson in my third grade classroom.  It includes printables for a large poster, activity, and Valentine I created.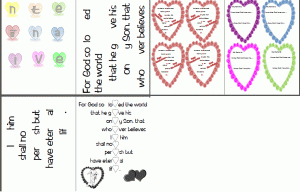 I started by reading the children's book St. Valentine which can be purchased at Amazon.  It's a great way to give students some history on St. Valentine.  We discussed the book and more history of St. Valentine's Day.  Then I used the large poster below and we read it as a class and the kids volunteered to fill in the missing letters…
The hearts are the missing letters and they are detachable from the chart and can be added as you read the verse.  Then the students filled in their own actvity sheet.   Once you fill in the missing letter you will spell VALENTINE.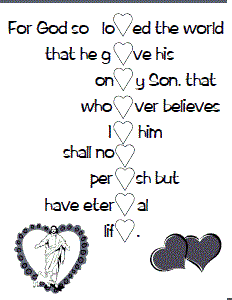 Then we read the story, I know Jesus Loves Me which was a good way to start a discussion about how we know God loves us and how we show our love to God.  Below are some of the examples that the kids came up with during our discussion…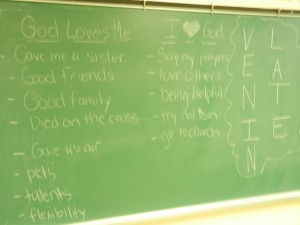 After we discussed, the students filled in their own hearts…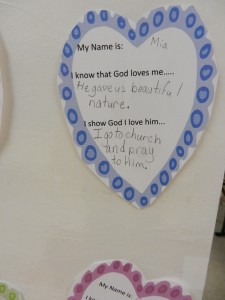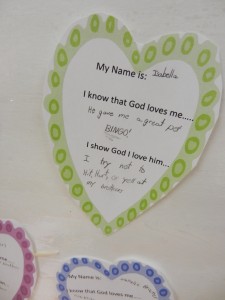 The kids seemed to enjoy the lesson and it was lots of fun!!!  We ended with a VDAY treat…  You can download the God Rocks Valentine here and the other printables for this lesson can be downloaded here.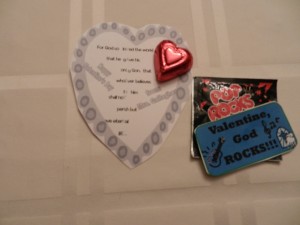 Google+