We all know the story of Spookley The Square Pumpkin, by Joe Troiana!  However, how many of you know The Legend of Mistletoe and the Christmas Kittens written by Joe Troiana and illustrated by Lydia Halverson???  I didn't until I was kindly sent a copy of the book and the cutest little stuffed plush kitten…  Even better I have a book and a plush to give away to one lucky reader… Plus, you know you want to compare and contrast these two books with the printable I made.  Read on to learn more.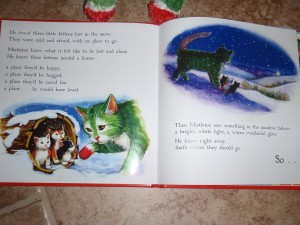 Mistletoe like Spookley is different yet so loveable and cute you want to grab him out of the pages of the book. You can't help but love this uniquely striped green cat with little red paws.   "Mistletoe was born on Christmas day and when the other kittens saw him…  they ran away."  The first few pages are sad as Mistletoe grows up trying to find a home and spending his first Christmas alone.  Then he meets three kittens. Mistletoe is no longer concerned with himself and his quest to find a home, but focuses on the kittens he has found. One night Mistletoe hustles through a storm with the kittens on his back in hopes of finding a warm place for his new found kittens.  Mistletoe finds a warm farmhouse to sneak into and a special surprise under the tree from Santa… or is Mistletoe himself the gift?  Read and find out how happily this story turns out.  As a parent and teacher one of my goals is to teach my children that giving is always better than receiving.  This little story shows just that from the super colorful illustrations to way the story flows and teaches the lesson that it is better to receive.  
Here is what I have to giveaway!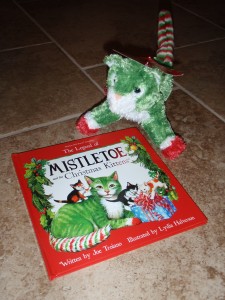 It's a hardback copy of the book and it is the cutest little mistletoe plush….  SO ADORABLE and SOFT TOO!!!  To enter go to our Facebook page and find the post about this giveaway and leave a comment.  Tell us if you have read Spookley or if you haven't read it in the comments of the Facebook post.  You have till Sunday, Dec. 18, 2011 to enter the contest!  Good Luck! 
No how about a Printable to match the book?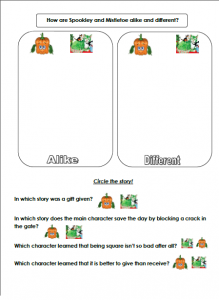 CLICK HERE TO DOWNLOAD THE PDF!
Visit the home of Spookley and Mistletoe!  Visit the Facebook Fan page too!!!

 NEED WINTER IDEAS!!!  Click here!
Google+