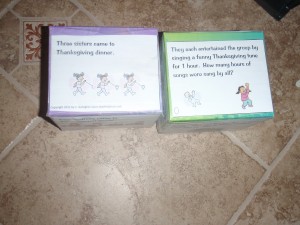 Here's a free set of printables for you that will help you create a story problem dice center.  This one is multiplication problems. 

Grab two empty or new kleenex boxes.  Print out the sheets below.  Cut out the pieces.  One dice will get the six pieces with a circle on the cut-out glued to the box.  The second dice will get the rest of the squares glued to the box.  Once you are done you have two dice ready for a story problem center.  Students can work on this in groups or independently.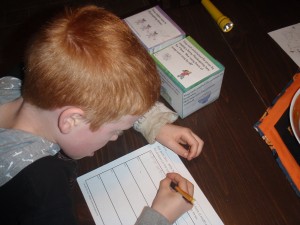 The student rolls each dice.  Then they write the problem rolled on the recording sheet.    You can watch the video below of how this works..

 
 Here are all the files for you to download and use to make this center!!! 
Be sure to visit our Thanksgiving Page for LOTS of free ideas and also stop here to see & purchase our Teaching Heart Thanksgiving PAcket!!!  All purchases help to keep Teaching Heart online and sharing free resources with you!!! 
ONE MORE thing…. Please take a second (only takes a click and second) and hop over here and click on the TEaching Heart Page!  We are sure to party if we win!
Thanks all – hope you enjoy this free printable!!
Google+