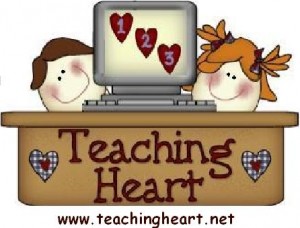 So, the Teaching Heart blog made a move if you did not notice.  Look up and you will see the URL is now different.  To get to the blog you just type in the Teaching Heart URL (www.teachingheart.net ) and add a /blog to the end (www.teachingheart.net/blog ).  With the help of Steve, my awesome hosting service guy at Arborhosting  www.arborhosting.com, I was able to get the blog moved over to WordPress.  I have been using Arborhosting for years and I am always happy with all the support offered there.  Great hosting service if you need one.
For a few days on my own, I tried to make all my posts link up correctly, get my RSS feed to run as it was on blogger, and make sure all my readers that hopped on to the blogger site would automatically be directed here to my new blogging spot.  I gave up trying after a few days and many hours of reading how-to's, I gave in to getting some help!  I am very please with the help I got from Joy at Five J's Design.  Joy helped move my blog from Blogger to WordPress without losing traffic.  She  imported posts and comments, fixed internal permalinks, redirected  my Blogger blog, and updated my Feedburner feed.   She was great and quick!  So happy I found her.  Bonus, she is a homeschool blogger too and you can see her lovely blog here.
The blog is still a work in progress.  I am still looking to get a custom template made and a few other things done…  but it is working and running.  I'm happy it is on Teaching Heart now! 
Happy Monday ya all!!!
Google+