I moved to the Pittsburgh area at age five and managed to grow up without being a huge Steelers fan… However, my brother was one year old when we moved here and he is a HUGE fan! Here he is tailgating before the Steeler win this weekend. Somehow he manages to get tickets to most games from various girls he hangs out with.
Me – I am a girlie-girl and really never liked sports. I remember once in high school pretending to like the Steelers because I liked a guy who loved them. Quickly I realized that I did not understand the sport of football and this guy wasn't worth learning it for. I moved on. However, I do enjoy watching Hockey and I love the Penguins! I often get mad at Pittsburgh fans who forget about the Pens until football season is over or if the Steelers aren't doing well.
So along comes my future husband… A Vermont Native who grew up with the religion of Dallas Cowboys. He is a loyal die hard Cowboys fan. Once when I was in college and he was visiting me he was forced to attend a Superbowl party where Dallas and the Steelers would go head to head… Let's just say he almost threw an annoying bandwagon Steelers fan girl up against a wall when she was trash talking his team… and if you know my husband, this is totally out of character for him. But he loves his Cowboys and can't stand people who talk trash about them when they don't know a thing about football. Some thought once we were married I would become a Cowboys fan… Naaaahhhhh, just don't like football. Truthfully, I leave the room when the Cowboys are on. It is like a new man comes out of my husband. He gets crazy. My kids even know you don't talk to Daddy when the Cowboys, Penguins, or Red Sox are on!
My son is torn… does he give into peer pressure and become a Steelers Fan or does he follow Daddy and become a Cowboys fan. I think peer pressure is winning… This week he asked me to dig out his Steelers shirt that my brother gave him for school on Friday. He did not want to be the only kid without a Steelers Shirt on. Even my daughter comes home from school with "Steelers crafts" she makes with her class. "Propaganda" says my husband with a slight smile.
Me – I want the Steelers to win for the many people I know that are fans and for the fact that shopping time in Pittsburgh is awesome when the Steelers are on. No lines and no one is out on the roads till game time is over. When the Steelers win, the town is in a better mood and people are just happier. You just have to live in Pittsburgh to understand the Steelers religion…
Anyhow, I jumped on the bandwagon this weekend and made a cute dessert Steelers style. I dipped oreo balls in yellow chocolate and made Steelers balls. Yummy… Here is the recipe;
8 ounces softened cream cheese or whipped cream cheese
18 ounces package of Oreo cookies, crushed (crush the entire cookie- don't remove the filling!)
2 cups semi-sweet or milk chocolate chips
1 tablespoon shortening
Mix cream cheese with electric mixer until fluffy. Add the crushed Oreos and beat on high until well mixed. Chill for at least 2 hours in the freezer. Then roll Oreo cookie mix into one inch Oreo Balls.
Next, melt the chocolate chips and shortening with a double boiler or in the microwave.
Dip the Oreo balls completely into the melted chocolate using tongs or a toothpick.
I used yellow chips for these.
Put on wax paper. After the Oreo balls harden, keep them in the refrigerator.
Makes about 3 or 4 dozen Oreo Balls, depending on the size
During the game I talked and ate and maybe watched a total of 10 minutes of the game…
Teachers, I have some football ideas for you here! Like this: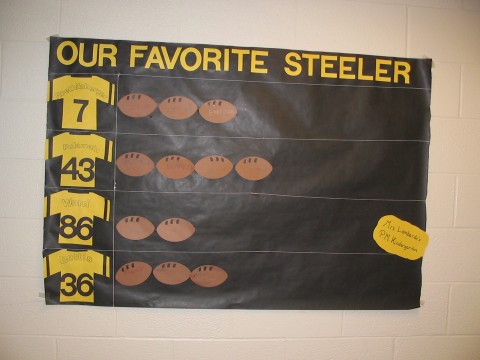 So, do you love the Steelers? Do you jump on the bandwagon when you hometown team is winning?
Google+