October is fire safety month. It is an important topic to cover throughout the year!
Here are some Fire Safety tips from the United States Fire Safety Administration.
You may wish to place these tips on a chart and go over them with your class!
Make sure everyone in your family knows and practices escape routes from every room in your home.
Remember to escape first, know how to notify the fire department, and when to call for help.
Never open doors that are hot to the touch.
Teach your family to stop, drop to the ground and roll if their clothes catch fire.
Designate a meeting place outside. Try to make it a location away from your home, but not necessarily across the street.
Teach your family to never re-enter a burning building.
Fire Safety Vocab. Cards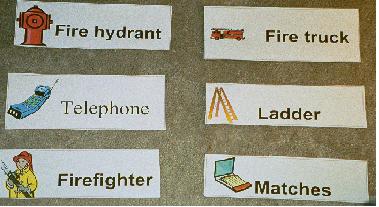 These are taken from the Primary Teacher Time Savers for October-November CDROM! To learn more about this CD – click here! You may print, laminate, and use these as you wish. The CD has many fire safety activity sheets for you to use during this unit.
Some words to talk about:fire, fire hydrant, firefighter, telephone, 911, ladder, matches, fire truck, smoke…
Smoke Chant
If you don't want to choke
Crawl under the smoke.
Get down on the floor
And head for the door
CRAFT IDEA:
Fire Painting- Give student a black piece of paper. Squirt thick lines of yellow, red, and orange paint randomly onto the paper. Give the child a piece of saran wrap and lay over the paint. Encourage the child to pull the saran wrap off, using vertical pulling action. Remove saran wrap and let dry. If desired glue on a small fire engine.
More Links:
Google+