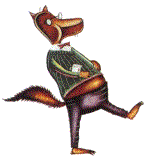 The True Story of the 3 Little Pigs!
"Here is the "real" story of the three little pigs whose houses are huffed and puffed to smithereens… from the wolf's perspective. This poor, much maligned wolf has gotten a bad rap. He just happened to be in the wrong place at the wrong time, with a sneezy cold, innocently trying to borrow a cup of sugar to make his granny a cake. Is it his fault those ham dinners–rather, pigs–build such flimsy homes? Sheesh."
Writing Prompts:
1.Were the pigs good little pigs?
2.Was the wolf really a bad wolf? Could it have been that the pigs were jealous of him? What if he was really a nice guy after all!
3.Can you really believe a pig?
4.Where would that pig have gotten all of the bricks? Did he have a job? Really!
5.Could there have been a windstorm that blew the house down?
Google+