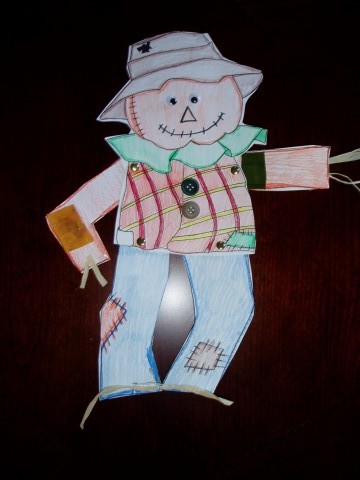 I love scarecrows. Here is a scarecrow pattern and craft off the Teaching Heart Website.
(2 buttons, hay, paper fasteners, 2 fabric pieces, and wiggle eyes)
Have your kiddos make their own scarecrow. Isn't he cute? I was looking all over for a scarecrow pattern that had
movable
arms and legs. I couldn't find one I liked online or in resource books, so I drew my own and he turned out too cute. The kids color and cut him. They glue on two buttons, two pieces of scrap fabric, wiggle eyes, and hay. They attach the arms and legs with paper fasteners. Then they have their own scarecrow.
Let's Make a Scarecrow
A mini book from Teaching Heart for you to print. Cut on the lines and staple the pages together to form a book. Have your kids color. Have them read their book to a friend and an adult. (k-2)
POEM TO MATCH:
Title: I'm a Little Scarecrow (I'm a Little Teapot)
I'm a little scarecrow,
Raggedy and worn.
I wear a hat, And a shirt that's torn.
When the crows come, I wave and shout,
"Away from my garden —- Get on out!"
Google+