Teaching Heart's Sing For Spring Packet Index: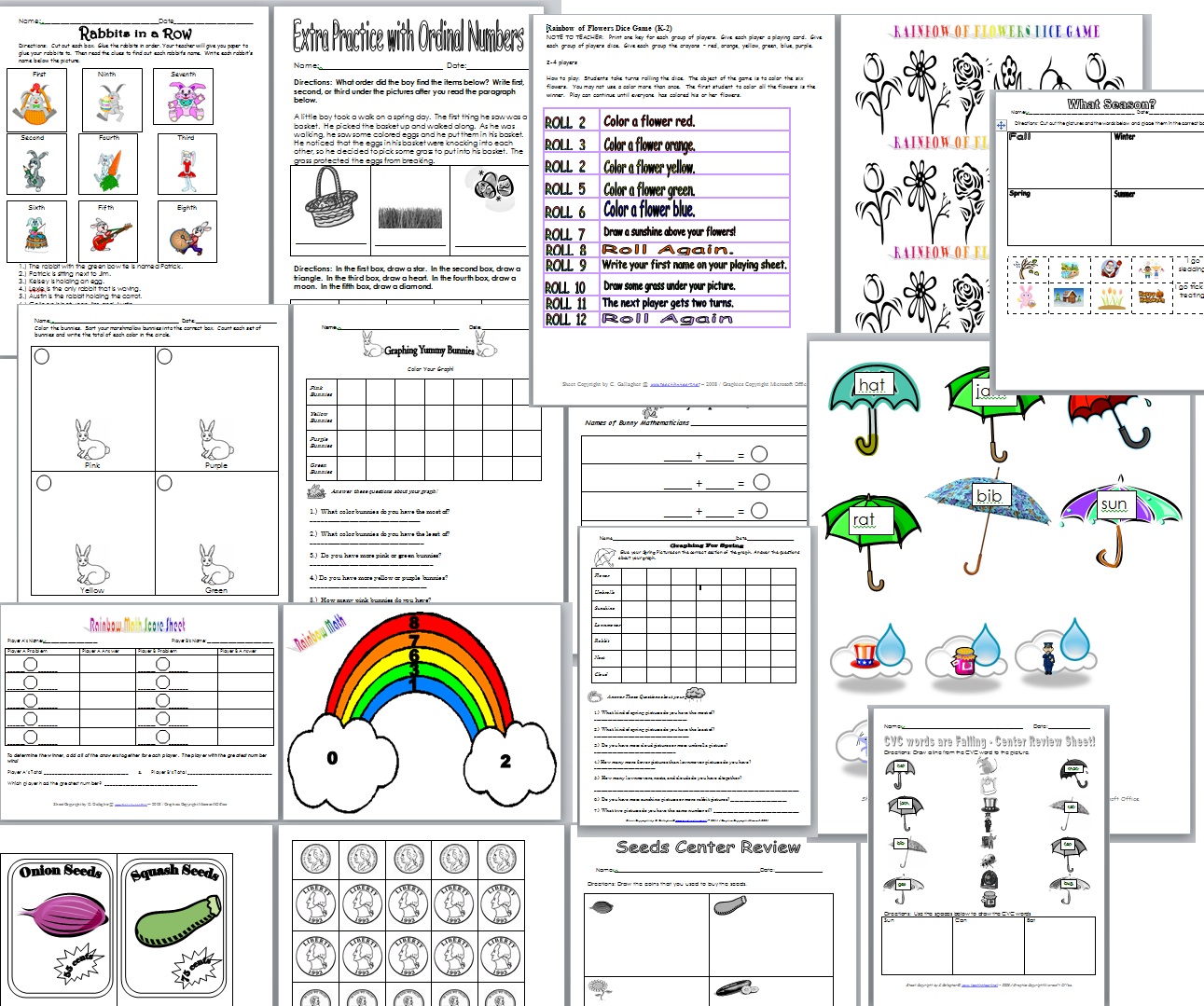 All files can be modified to meet your needs. Once payment is complete you will be emailed directions instantly on how to download your file... Get it now!
$8.99
1.) Bunny Ordinal Number and Following Directions – Hands on activity that has the students cut out and glue bunnies in order by the ordinal word given. Then the students must follow the given directions to name the bunnies. Grade k-1, I suggest you read the statements and work as a class to write the bunnies' names. Grades 2-3, have the students read the statements and write in the bunnies' names. The last page is an independent review. Grades 1-2 should do this with their teacher. Grades 3 should be able to complete the last page independently.
2.) Rainbow Toss Math Game – Includes directions, game board, and score sheet. This game can be used with addition, subtraction, and/or multiplication. Only other materials needed are dice and sunflower seeds. (1-3)
3.) Seeds Money Take It to Your Seat Center – This includes manipulatives to make a center. Also included is a center sheet for your students to complete after they work the center. (1-2)
4.) Rainbow of Flowers Dice Game – Includes directions and game board to play this colorful game. All you need to supply is the dice and crayons. Makes a great center too! (1-2)
5.) Rainbow Quilt Square Homework - Send home this Colorful Family Fun Activity. Assign each student a color in the rainbow. Give the students the squares below to take home and create a collage with small items or pictures that represent their given color. (k-2)
6.) Umbrella CVC Take It to Your Seat Center - Print the two pages (pages 3 & 4) of manipulatives on cardstock. Laminate and place in an envelope. Student must match the CVC word on the umbrella to the correct picture on the raindrop and cloud. When the student has completed the center, they may complete the attached center (page 2) sheet as a review. (k-2)
7.) Spring Comprehension Game Board – A game board is included. Teacher can print the game board and laminate it. Also included are game cards, program the card with questions from a story you just read. The students answer the questions and move their game piece (provide a counter) to the given color if they answer correctly. Just highlight the text on the card and type in your question. Print the cards. This is a great activity to use during small group instruction. Another option is to program the cards with Spring Vocabulary or Sight Words. (K-3)
8.) Colored Bunny Marshmallow Sorting & Graphing Sheet to use with Jet-Puffed Bunny Mallows & Bunny Equations Activity – Three math related activities to use with the Jet-Puffed Bunny Mallows. (k-2)
9.) Graphing For Spring (k-2) – Student cuts Spring Images and then glues them to a graph.
ONLY $8.99
All files are sent via instant download to your inbox after purchase!
Copyright 2012
All products created by Colleen Gallagher at Teaching Heart are under copyright.
The items are for single classroom use only and may not be shared in any format or resold in any format including
selling the CD or any of the files found on the site on Ebay. This includes in printed or electronic format.