Caps for Sale:
A Tale of a Peddler, Some Monkeys
and Their Monkey Business


Click to learn more or to order this book!
A collection of ideas, lessons, and printables to match the book!









Words to discuss:
country, disturb, monkey, ordinary, peddler, quite, stamped, straight, wares

Ask your students to think of rhyming words for cap.

Students can try to figure out how much money the peddler would make if the caps were 5 cents or 10 cents each.

Probability Graph:
Make 16 paper caps (4 of each color: red, blue, gray, and brown) Place the in a bag.
Draw a chart on the overhead as seen below:
| Color | Tally Marks for Number of Caps |
| --- | --- |
| Gray | |
| Brown | |
| Blue | |
| Red | |
Put the paper caps in the bag. Mix them up. Have each student predict what color cap they think might be pulled out. Have them tell or write down their prediction and why they think that color is most likely to be pulled. Allow each student the chance to pull out a cap to see if their prediction was correct. After each turn, the cap should be put back in the bag and mixed up so the next child can take their turn. After each student draws a cap on the bag, they should make a tally mark on the correct section of the graph. Discuss results!

Hat Songs & Poems!

Caps For Sale

Caps for sale
Caps for sale
Caps upon my head
Caps for sale
Caps for sale
Yellow, blue and red
Happy Hats

I wear my hat upon my head
I wear my hat upon my hair
I wear it here I wear it there
My hat and I go everywhere.

I wear it in the rain and snow
I wear it even when it's hot
My hair feels lonely when its off
My head feels happy when its not.

And when it's time to get to bed
And Mama says, "Take off your hat,"
I do exactly as I'm told
And put it on my kitty cat!

Other Hat Books
Click to learn more at Amazon

Shared Ideas

How about some monkey math? You could give each child a
monkey (clip art) to cut out and then have a bunch of hats
(construction paper ovals) available. They could make
patterns on top of the monkey's head with the hats. Or you
could do subtraction using the hats as manipulatives. You
could also reread the story letting the children play the
part of the monkeys.
When we read the story Caps For Sale, we made caps and sold
them to the First Graders for 3 cents. Each k student got a
paper outline of a cap. They decorated with "junk" from our
art area. On the day we were selling them, I gave the First
Grade teacher enough pennies for each 1st grader to have 3.
When we came peddling our caps, the k students called
out, "Caps! Caps for sale! 3 cents a cap!". The 1st graders
played their part by calling out "I want a cap!" Each k
student sold their cap and went home with 3 cents! They loved
it. Posted by KBiKY
We tie it in with our money unit. We have a cap outline that
the children decorate with scraps from our junk art box.
Then we arrange to visit the First Grade to sell our caps.
Before our visit, we give the First Grade enough pennies for
each child to have 5. When we come peddling, the
Kindergarteners chant, "Caps for sale. 5 cents a cap!" The
First Graders play the part well..."I want one!". They count
out the 5 cents to the K and get to keep the cap. The Ks get
to keep the pennies. Everyone's happy!! Cindy B.

Some ideas found on CDROM # 4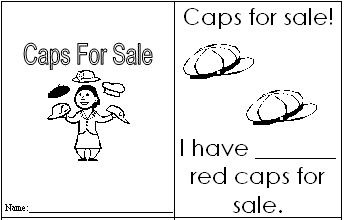 Caps For Sale Mini Book:
An eight page book that asks the students to color the hats as stated. Also has the students count the hats and write the number word in the blank.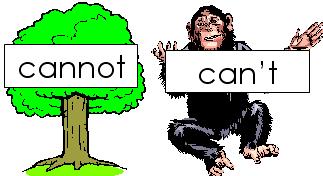 There are many contractions used in this story. Discuss contractions with your students. Place a monkey and his contraction in a pocket chart. Have a student find the tree with the correct word on it. The student should place the trees next to the matching monkey.
The CDROM includes 9 monkeys and 9 trees to match.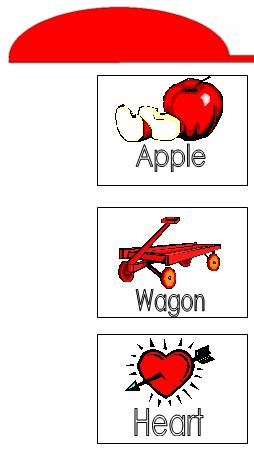 This activity is a sorting by color exercise. The caps in the story were gray, brown, blue, and red. Below you will find a cap of each color. Place each cap on a row of a pocket chart. Then use the pictures below for your students to sort next to the correct color cap. You may wish to laminate these after you print them. Place the pictures in a folder. Your students will pull a picture from the folder and place it next to the correct cap.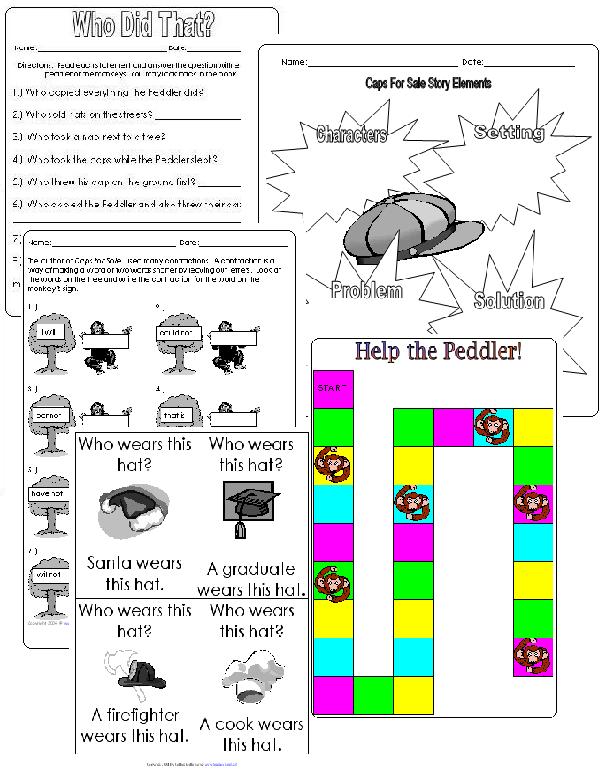 Various Pages Found on CDROM # 4
An envelope counting center:
The monkeys in this story loved to copy the actions of the peddler. When the peddler fell asleep, the monkeys put his hats on. Have your students look at the numbers on each monkey and the dots on each hat. Have them match the monkey to the correct hat.
To make this center: Print, laminate, and cut. Place in an envelope. Includes monkeys with numbers on them and colorful hats with dots on them.
Cap Count Center (K- 1) - Click to print!!!
Student must match the monkey to the correct hat by counting the dots on the hat and matching it to the number.

Other Great Places to Look For Hat ideas.

All Content contained of the pages within this website is copyright Teaching Heart 1999-2005 by Colleen Gallagher, all rights reserved. We give you the permission to download, print, modify, and generally use the written material contained herein, we do ask that you respect our rights and not publish any material on this site without prior written consent. Please do not copy and paste content from this site onto your site. Thanks!